UPCOMING EVENT!  UMASS FIELD HOCKEY JULY 18TH DAY CLINIC
July 18, 2021
9am-3pm
Cost $150
Open to any and all athletes, ages 12-18
9-11am: Session One – Skills & Drills Session
11am-1pm: Lunch (Bring Your Own) & Campus Tour
1-3pm: Session Two – Small Games Session
Coaching Staff: Barb Weinberg, Pietie Coetzee-Turner, Roxy Coetzee-Turner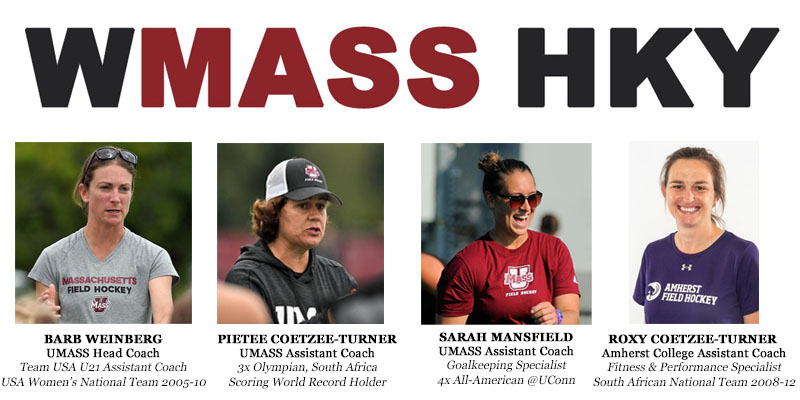 WELCOME TO THE NEW WMASS HKY CLUB PROGRAM!
WMASS HKY is hopeful to start our new comprehensive club field hockey program beginning in the Summer of 2021!  Programs will be offered for the U8, U10, U12, U14, U16, and U19 age groups.  Outdoor training will take place at the University of Massachusetts on water-based AstroTurf at the Gladchuck Sports Complex and indoor training is expected to take place at Smith College in Northampton.  Our world-class coaching staff will include the UMASS Field Hockey coaching staff and players, and additional high level coaches from the area. We are excited to embark on this new adventure and to collaborate with others to #growthegame in Western Mass!
UPDATE (March 3, 2021): Due to Covid-19, UMASS is still not allowing outside groups on campus at this time.  As soon as this is lifted, we will begin WMASS HKY in some form.  We hope to begin with weekly training sometime this summer and then pick up with our comprehensive club and youth offering in the Fall.
Join our Email List to be notified when we have new information to share