UPCOMING EVENT!  UMASS FIELD HOCKEY JULY 18TH DAY CLINIC
July 18, 2021
9am-3pm
Cost $150
Open to any and all athletes, ages 12-18
9-11am: Session One – Skills & Drills Session
11am-1pm: Lunch (Bring Your Own) & Campus Tour
1-3pm: Session Two – Small Games Session
Coaching Staff: Barb Weinberg, Pietie Coetzee-Turner, Roxy Coetzee-Turner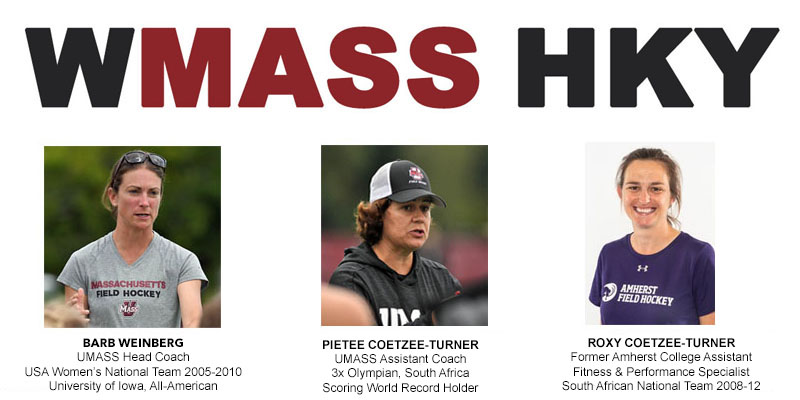 WELCOME TO THE NEW WMASS HKY CLUB PROGRAM!
Join our Email List to be notified when we have new information to share
---
WMASS HKY Club 2021 Summer Program
Mondays, 5:30-7:00pm: U16, U19
Wednesdays, 5:30-7:00pm: U10, U12, U14 (U10 is Grade 3+ as of Fall 2021)
10 Sessions: $275 (Includes Reversible Jersey)
Mondays: June 7-August 9
Wednesdays: June 2-August 4
Coaching Staff:
Barb Weinberg, Pietie Coetzee-Turner, Roxy Coetzee-Turner
The brand new WMASS HKY Club is excited to get started with a weekly training program this summer.  The 10-week summer program will be held on water-based AstroTurf at the UMASS Gladchuk Sports Complex, the official home of UMASS Field Hockey.  The 1 ½ hour sessions will include age-appropriate skill and tactical development, and small game play.  There will be goalkeeper training.  All athletes will receive a WMASS HKY reversible jersey.  We will begin a more formal and comprehensive club program starting in the Fall, where we will train and attend tournaments and showcases at each age group (Fall, Winter & Spring/Summer).
*Due to NCAA rules, all WMASS HKY club players must reside within a 50-mile "as the crow flies" radius of the University of Massachusetts or WMASS HKY must be the closest available training opportunity for the athlete should they reside outside the 50-mile radius.
Submit Payment (Online or Mail Check)
Player Liability Consent Form (REQUIRED)
***If you are still interested in registering, please email us at wmasshky.com to see if there is space***