UPCOMING EVENT:
Fall Field Hockey Clinic with Pietie Coetzee-Turner
November 1, 2020: 3-5:30pm
Seacoast United Sports Park & The Crossbar Pub (Amesbury, MA)
Cost: $60
If you are looking for a fantastic opportunity to learn new skills while having fun, this is your chance!
WMass HKY club is hosting a fall youth session directed by Pietie Coetzee-Turner.
Open to any and all players (of any skill level), currently in grades 5-8.
*World class instruction of basic to advanced skills (I meet all players where they are with skill then help them improve!)
*Small games
*Fun with just enough challenge
*Friendship
Covid-19 protocols observed. Once you have signed up you will receive more information regarding this. The health of our participants and staff is of utmost importance. 
ALL PARTICIPANTS MUST BRING A SIGNED MEDICAL/LIABILITY FORM WITH THEM TO THE CLINIC: CLICK HERE TO DOWNLOAD FORM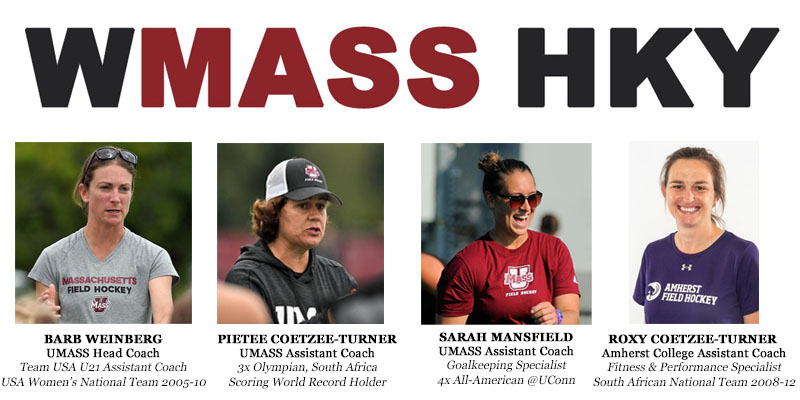 WELCOME TO THE NEW WMASS HKY CLUB PROGRAM!
WMASS HKY is excited to announce the start of a new comprehensive club field hockey program beginning in the Spring of 2020!  Programs will be offered for the U8, U10, U12, U14, U16, and U19 age groups.  Outdoor training will take place at the University of Massachusetts on water-based AstroTurf at the Gladchuck Sports Complex and indoor training is expected to take place at Smith College in Northampton.  Our world-class coaching staff will include the UMASS Field Hockey coaching staff and players, among additional high level coaches from the area. We are excited to embark on this new adventure and to collaborate with others to #growthegame in Western Mass!
COVID-19 UPDATE
LAST UPDATED 10/25/2020
We regret to announce that we have suspended all WMASS HKY programs until UMASS opens up facilities to outside programs.
CAMPS/CLINICS & ADDITIONAL LOCAL EVENTS





This is going to be fun! 🏑 #fieldhockey #fun #learning #skills #passion https://t.co/tWWIpVJ253